Description
VR Platforming taken to the next level. Jump. Climb. Grab. Swing. Fly. Dodge. Do whatever it takes to reach the goal.
Set in a world halfway between the digital and the living, Grid Leaper takes players on a journey through 90 increasingly difficult levels and 20 unique environments.
Designed from the start as a VR-only game with an obsessive focus on gameplay, Grid Leaper challenges and surprises like few VR games have before.
Grid Leaper is incredibly challenging, but leads the player to the challenge in a gentle way of learning through exploration. Despite being difficult, the challenge is never unfair, and keeps players wanting to continue trying "one more time."
Players are eventually encouraged to find their own path. There are always more than one way to the goal and the player decides how to get there.
Features a fully-featured level editor that was used to design the game.
History
Grid Leaper started as an experimental project in 2017 by a solo developer and went through many iterations and restarts before becoming the precision platformer that it is today. It will be available for the Rift, Rift S, and Quest through link cable at launch. A stand-alone Quest 1 & 2 version will follow shortly. SteamVR and Windows MR versions are also in the works.
Features
Multiple gameplay mechanics – Climbing, grappling, flying, jumping, dodging are all rolled into one seamless experience.
Progressive challenge – Players experience an increasing level of challenge that ultimately climaxes in the final levels to an incredibly difficult but satisfying experience.
Retrowave and Vaporwave aesthetic – Attempts to bring a new take on both the Retrowave and Vaporwave aesthetic into VR.
20 Unique Environments – 20 levels that take influence from science fiction movies and video games of yesterday combined with a modern take on retro-futurism.
Fully-featured Level Editor – "Power User" mode allows users to create a nearly infinite amount of levels using all of the level building tools that the developers used to build the game.
Soundtrack – Grid Leaper features a soundtrack that includes 25 licensed tracks from top and upcoming synthwave/retrowave artists: Wolf And Raven, PolarisRadio, Turboslash, and Michael Oakley.
---
Videos
Trailer https://youtu.be/CEmRaCXjy9g YouTube
---
Images
---
Logos, Icons, & Various
---
About Neon Pink Software LLC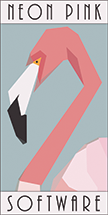 Boilerplate
Neon Pink Software LLC is an independent game studio rooted in the United States.
---
---
presskit() by Rami Ismail (Vlambeer)